I'm sure many of you have heard the term 'Studio Rat'.  For those who don't know what that is - it's basically someone who spends all their time in the studio, gets little or no vitamin D and looks it, and sometimes suffers from a slight version of non-24-disorder.  I wouldn't say I've been called a studio rat before, but I sometimes feel like one.
I'm writing you all from a coffee shop in sunny LA, surrounded by 'writers' of 'scripts' and 'books' and people taking 'meetings' because they don't want to pay for an office (or wifi).  Over the past few weeks/months, the emails have piled up and the social media to-do list has gotten too long to bear.  So a week away (for work) has left little pockets of down-time where I've been able to catch up a bit!  So here I sit, writing emails, taking phone calls, and updating my website! (hypocrite!)
I spent a couple days in Last Vegas this week performing for Hasbro at the 'International Licensing Expo/Convention Thing'(official name, I swear).  Promoting a project that I'm not actually allowed to mention (yet...).  Strange, I know, but I promise I'll be able to explain more soon.  For now - here's a picture of us performing at the Hasbro 'booth' -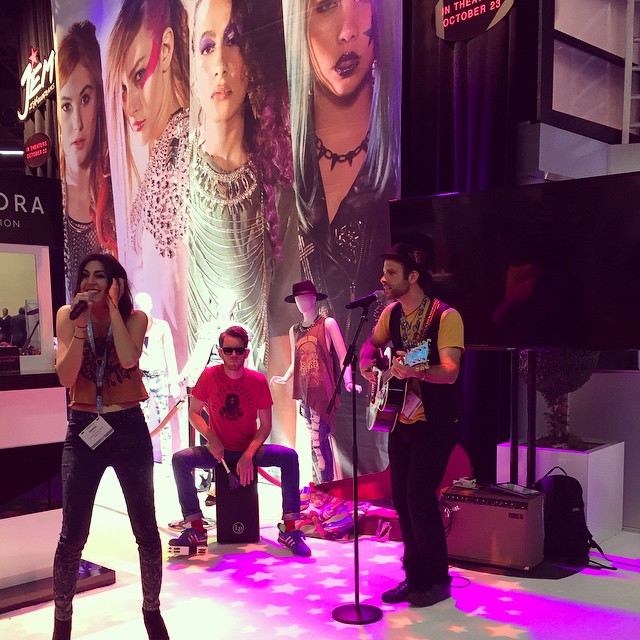 Then, we flew to LA for a show tonight with the wonderful
Leslie DiNicola
at Hotel Cafe!  By the way, I'll be performing with her on the road for 3 weeks in July.  I just updated my 'shows' page, feel free to check it out and come see us play!  We're opening for American Idol winner
Lee DeWyze
. 
Back to the topic of my post in the first place - Studio Rat - As I said before, some of it I'm not allowed to mention just yet. But it's awesome!  I swear!  Aside from that,
ItsTheReal
and I are back in the studio working feverishly to finish our next batch of tunes (read: mixtape 2?  album 1?  singles?  what's the difference? MUSIC!!).  The soul/RnB project BSKI is approaching the finish line with it's/our first EP, I hope to be able to post some things very soon. 
And, GnM Studios (my awesome little name for my awesome little space) welcomed
Secret Someones
for a day of vocal recording for their forthcoming album!  We also had
Chrissi Poland
and
SKYES
in to record vocals for the super secret project I mentioned above.  As my friend Ryan said today 'That's all the latest and greatest.'  See you next time!